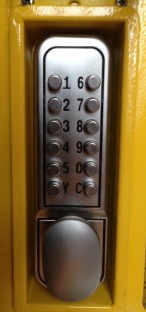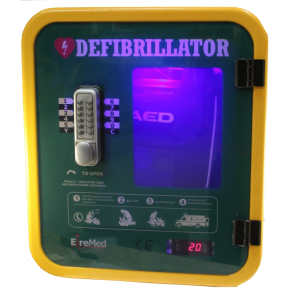 Outdoor Digital AED Cabinet
Steel, Outdoor, Wall Mounted, AED Cabinet with Digital Key Pad

Key Features

Hi Visibility Robust Construction

Digital Keypad Access

Master Key Access

Remote Control Alarm

Clear Perspex Door (Allows you to check the status of your Defibrillator without opening the cabinet)

ILCOR Approved AED Signage

Instructions of what to do in the event of a sudden collapse "Dial 999, Start CPR, Use AED, Continue until Ambulance Arrives"

Integrated Alarm with remote control.

Adjustable Shelf to accommodate all AEDs on the world market

Additional Information:
Security Options:

Leave it open, lock it with the digital keypad or with the key. The choice is yours...

Closing clasps at the side of the cabinet allow you to close the cabinet and leave it unlocked if required

Digital Key Pad: Allows you to lock your AED cabinet and access it using the digital keypad. Battery Powered. Alerts the user if the battery is running low. Any combination of digits can be used and set by the user.

Master Key Override: For customers who prefer a key lock the key pad can be disabled and the cabinet opened by the key provided. This gives you, our customer complete peace of mind.

Remote Control Alarm: The cabinet features a remote control, contact alarm. When activated the alarm will sound when the cabinet is opened. The alarm can be shut off prior to opening using the remote control when you are servicing your AED. The alarm is battery powered and can be switched off if required.

The Clear Perspex Door allows you to check the status of your Defibrillator without opening the cabinet. This increases the profile of the Defibrillator and encourages more frequent visual checks of your AED

By far the most high quality AED cabinet on the world market!

Compatible with: All AED's

Dimensions: 470(h) x 380(w) x 220(d)mm
Inner Dimensions:360(h) x 300(w) x 200(d)mm
Complete versatility

This cabinet can be:
Locked. Left Unlocked. Alarmed, Left un-alarmed. Key locked or Key Pad Locked.

This gives you an unrivalled scope of options making this the most flexible high quality AED cabinet on the world market today.
€295.00
Next Day delivery on all order placed before 12 noon.
Free delivery on this product in Ireland & U.K